Flan with Brie: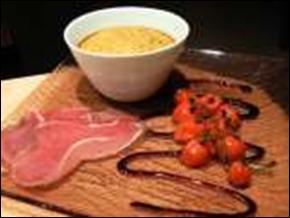 Prep time :15 min
Cook time : 25 min
Ingredients :
-200g (7.2 oz) wheel Brie
-50 cl (17 fl oz) milk
-4 large eggs
-6 chive leaves
-40g (1.4 oz) butter
-2 pinches of curry powder
-Pepper
Preparation :
Preheat oven at 180°C (350°F) and put a dish with water to do a bain-marie (double boiler)
Cut rind from brie and cut cheese into 1-1/2 inch cubes. Fill several porcelain bowls with cheese
Beat together eggs and milk
Salt and pepper
Add curry powder, salt, pepper and chopped chives
Fill bowls
Bake in oven (bain marie) about 25 mn at 180°C.


Côté de Provence, Cheverny rosé
Serve with smoked ham and small cherry tomatoes
Bon Appétit !